318 360 Race Heads
Conventional heads modified to produce up to 50 hp more at 4500 rpm and up to 80 lbs/ft more torque from 1000-3500 rpm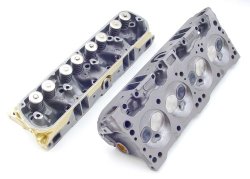 Stage 2 4 6 7
Use standard heads rebuilt to the Negative Supercharging specs.
Stage 1 3 5
Use the standard heads fitted to the engine.
Negative Supercharging race heads are conventional cylinder heads that are modified with special porting, valve angles, high flow intake and low flow exhaust ports to control the Negative Supercharging process and enhance the supercharging effect. Cylinder heads from standard, race, cast-iron to aluminium may be used with Negative Pressure Supercharging. However, conventional race heads must have the exhaust modified to the Negative Supercharging specs.
NOTE
Modifying used standard heads to the Negative Supercharging specs produce the same increase in power and saves over AU$2,000 compared to the cost of new performance heads, porting and valve work. For example, the Negative Supercharging specs improve the intake flow of standard 1971-91 360 cast-iron heads from 215 cfm to 250 cfm at .500" lift at 28" Hg and produce 15 cfm more flow from .100 - .400" lift than ported Edelbrock aluminium heads.
318 360 Negative Supercharging Race Head Specs
318 - 1.88" / 1.50" (intake / exhaust)
360 - 1.96" / 1.60" (intake / exhaust)
Flat-head Intake Valves
Tulip-head Exhaust Valves
Open Chamber
8.5 - 9:1 Compression Ratio
High Flow Intake Ports
Low Flow Exhaust Ports
Widened Intake Ports (near pushrod)
Unshrouded Intake Valves
Hardened Exhaust Seats
Special 4 Angle Valve Job
Special Pocket Porting
HD Valve Springs (up to .550" lift)
Valve Spring Retainers (chromemoly)
Intake Valve Spring Umbrellas (stainless)
Positive Valve Stem Seals (all rubber 2 ring type)
Valve Stem Collets (hardened with reduced shoulders)
K-Line Valve Guides
Height of Valve Guides reduced to allow .550" lift
Hi-Tensile Rocker Shaft Bolts (grade 8)
New Brass Frost Plugs
Cleaned and Crack Tested
Impulse Engine Technology P/L
PO Box 986 Randwick NSW 2031 Australia
Ph: (02) 9398 5544
Fax: (02) 9398 5644
International: Ph: +(612) 9398 5544
Fax: +(612) 9398 5644
Email Us


Inventor of Negative Pressure Supercharging