| | |
| --- | --- |
| DirectHits Spark Amplifiers | |
Produces up to 15hp more and up to 10% more fuel economy than performance ignition systems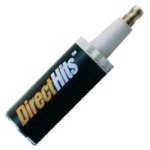 DirectHits spark amplifiers are a revolutionary breakthrough in ignition technology. Instead of producing the common narrow spark at the plugs, the spark amplifiers produce a huge plasma spark that generates 500 times more spark energy.
This ignites a larger area of the intake charge which increases the speed and pressure of combustion and prevents supercharged engines from extinguishing the spark during compression. As a result the spark amplifiers improve torque, horsepower, fuel economy and emissions substantially more than performance ignition systems.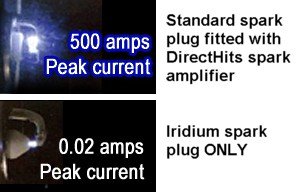 However, the spark amplifiers draw a lot more current to produce the more powerful plasma spark which may cause misfire with some standard and performance ignition systems. Therefore, to find out the ignition parts that should be used with the spark amplifiers see NPS Ignition System

Spark amplifiers work ONLY with standard NON-resistor spark plugs

The DirectHits spark amplifiers are a simple device that screws onto the end of each spark plug and one is required for each cylinder. However, they work ONLY with standard NON-resistor spark plugs such as NGK, Nippondenso or Champion (made in USA). The more expensive platinum or iridium spark plugs prevent the spark amplifiers from producing the powerful plasma spark and may cause misfire.


Australia
AU$40* each
NZ and Asia
AU$36 each
USA and Canada
US$25 each
Other Countries
US$25 each
* Price includes GST
Impulse Engine Technology P/L
PO Box 986 Randwick NSW 2031 Australia
Ph: (02) 9398 5544
Fax: (02) 9398 5644
International: Ph: +(612) 9398 5544
Fax: +(612) 9398 5644
Email Us


Inventor of Negative Pressure Supercharging